Fox News host Sean Hannity recently criticized armed protestors who demonstrated outside the capital building against Gov. Gretchen Whitmer's lockdown order. Many of the protesters were carrying assault-style rifles strapped around their backs.
"I'm the number one supporter [on] radio and television, that I know of, [of the] First Amendment and the Second Amendment. Now, no one is a bigger defendant of the Second Amendment than yours truly," said Hannity. "This, with the militia look here, and these long guns, uh… no. Show of force is dangerous. That puts our police at risk. And by the way, your message will never be heard, whoever you people are."
Hannity's message was that the protesters should have concealed their weapons instead of holding them out in the open. According to Hannity, brandishing firearms at these protests is a form of intimidation that only makes responsible gun owners and second amendment supporters look bad. Hannity did not mention that the protesters were also in close proximity to one another, which threatens to exacerbate the Covid-19 infection rate.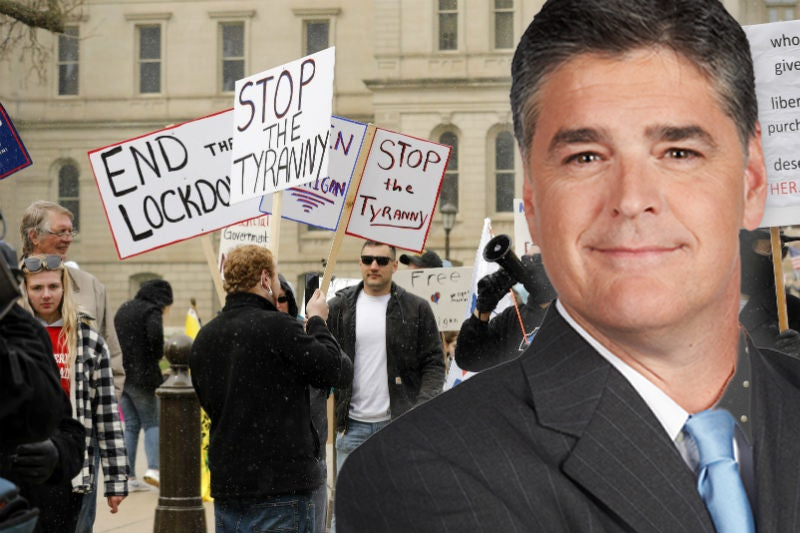 Dan Bongino, a Fox News contributor, partially disagreed with Hannity's stance saying "people are fed up."
Governor Whitmer condemned the protesters in a statement, "There were swastikas and Confederate flags and nooses and people with assault rifles. Some of the outrageousness of what happened at our capitol depicted some of the worst racism and awful parts of our history in this country."
It's notable that mass shootings have declined during the Covid-19 pandemic while gun purchases have increased dramatically.