Beauty salons are businesses that require effective management of appointments to provide quality services to customers. In today's fast-paced world, traditional appointment bookings methods such as phone calls and in-person bookings can be time-consuming and inefficient. Fortunately, software for making appointments in beauty salons has been developed to streamline the booking process and improve customer experience. This software allows customers to book appointments online and receive an automatic confirmation, it provides salon staff with a digital calendar to manage appointments. This article will explore the features, benefits, and top-5 appointment software for beauty salons.

Features
Appointment software for beauty salons has a range of features designed to streamline the appointment booking process and improve customer experience.
Online booking: Customers can book appointments using the salon's website or a dedicated booking app anytime, even outside business hours.
Automatic confirmation: Customers receive an automatic confirmation via email or text message after booking an appointment, helping reduce the risk of double bookings and ensuring that customers have a record of their appointment time.
Calendar management: Salon staff can manage appointments through a digital calendar. Staff can view all appointments at a glance, reschedule and make notes about specific customer requests.
Automated reminders: Automated reminders are sent to customers to remind them of upcoming appointments, this reduces the number of no-shows and ensuring that customers arrive on time.
Customer database: The software stores customer information and appointment history, including preferences for services and staff members. It allows salon staff to provide personalized service to customers and build long-term relationships.
Why salons use special software
Increased efficiency: saves time by automating the appointment scheduling process.
Reduced no-shows: automated reminders help reduce no-shows.
Improved customer experience: online booking and automated confirmation make booking more convenient and improve quality of services for customers.
Improved customer retention: customer database allows salons to keep track of their customers and offer personalized services.
Top-5 Appointment Software for Beauty Salons
There are numerous appointment software options for beauty salons, but here are the top 5 software solutions available:
1 DIKIDI
DIKIDI is cloud-based scheduling appointments and business management software for a beauty salon. It offers a range of features that allow salon owners to streamline their business operations, manage appointments, and enhance customer experience. DIKIDI software is available in both mobile and computer versions.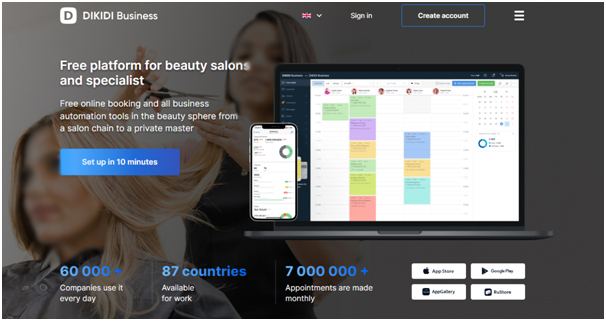 Key features
Online Booking:
Automated Reminders
Calendar & Customer Management
Marketing Tools
Reports and Analytics
Plan
FREE appointment scheduling & booking
Pain plans starting from $9.5 / month
Notifications
SMS or email
New appointments
Cancellations
Rescheduling requests
Staff schedules
Integrations
Payment processors like PayPal or Stripe for online payments
Social media platforms like Facebook and Instagram for marketing purposes
Google Analytics for tracking website traffic
2 Rosy Salon Software
Rosy Salon Software is a cloud-based appointment scheduling and business management software designed specifically for the beauty industry. The software helps salon owners manage appointments, streamline operations, and enhance customer experience.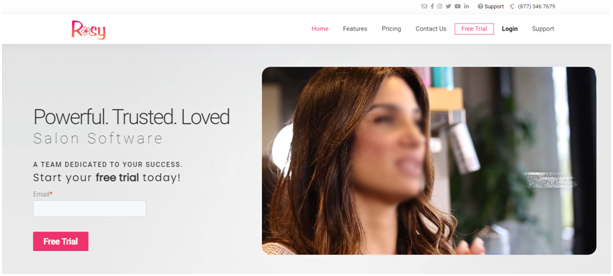 Key features
Point of Sale (POS) Functionality
Inventory Management
Online Booking
Automated Reminders
Inventory Management
Pricing
Standard: $29/month with a 30-day free trial.
Premium: $37/month with a 30-day free trial.
Integrations
Social media platforms such as Instagram
Marketing automation platforms like Demandforce for marketing and customer engagements.
3 Schedulista
Schedulista is an online appointment scheduling software that helps businesses to manage their appointments, clients, and staff members more efficiently. It provides an easy-to-use platform that enables businesses to manage their appointment scheduling, calendar, client information, and staff schedules in one place.
Key features
Unlimited appointments & staff members
Online booking
Appointment reminders
Email notifications
Appointment scheduling widget for your website
Google Calendar sync
Customer management
Online Booking Methods
Online booking widget for your website
Direct link to your scheduling page
Facebook booking widget
Email booking link
Notifications
Email and SMS text message
Integrations
Schedulista integrates with a variety of third-party applications, including:
Google Calendar
Stripe
Zoom
QuickBooks
Salesforce
Mailchimp
Zapier
Versions
Mobile: iOS and Android devices
Computer devices: Web version
Pricing
Flat fee and no setup charges:
One user: $19 per month
2-15 staff: USD 39 per month
Any team size: Enterprise custom pricing
4 Savvy Beauty Salon
Savvy Partners is a vital business management software that caters to the demands of busy entrepreneurs. It includes automated reminders that eliminate the risk of missed appointments and provides easy access to all customer information, leading to enhanced efficiency in operations.
Key features
Manage Customers & appointments
Easy billing and waivers
14 days free trial
Switch or cancel anytime
Great support
Pricing
Starter: $35 / Month
Professional: $62 / Month
Enterprise: $83 / Month
Versions
Mobile: iOS and Android devices
Computer devices: Web version
Notifications
Email and SMS text message
5 Salonist
Salonist is a highly-rated salon software solution designed to meet the needs of beauty businesses, including spas, massage parlors, and barber shops. This comprehensive platform offers a range of tools that enable efficient management of various operations related to staff and customers.
Features
Inventory management
Commission management
Online payment processing
Employee performance tracking
Online Booking Ways
Salon website
Social media
io mobile app
Notifications
Appointment reminders
Payment notifications
Marketing messages
Staff notifications
Integrations
Payment gateways such as PayPal and Stripe
Marketing automation tools such as Mailchimp
Accounting software, Xero and Quickbooks
Versions
Mobile: iOS and Android devices
Computer devices: Web version
Conclusion
Investing in appointment scheduling software is a wise decision for beauty salon owners looking to improve their business operations and customer experience.